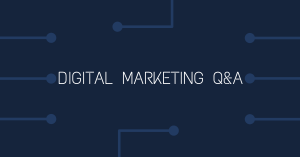 Q.1. What does a career in Digital Marketing involved ?
Management as a study and marketing as a profession have always fascinated me since my college days. The mechanics behind positioning a brand, creating a market where none exists and delivering real value to customer (during and post -product purchase) are aspects which glued me to this field. I was quite lucky to be in the Media-Marketing vertical at Cognizant, which exposed me to the best digital marketing implementation projects across the globe. Publishing companies (due to low print readership) had already started to decline since the turn of the 21st century and they have been the first ones to move to digital platforms. Due to this fact, adoption towards digital media and marketing has been the highest in the media industry and this exposure is what kept adding to my skill across multiple digital marketing streams and platforms.
Q.2.  Can you share a few insights about how digital marketing has influenced the Indian business landscape ?
With India taking the first baby steps in digital marketing around 1995, we have come a long way in now having global entrepreneurs impacting the space through multiple digital products, platforms and services. Among many others the 3 biggest impacts according to me have been:
 SMB commerce shift to digital platforms:Small and Medium size businesses have benefited            tremendously from just being present online across listing sites like IndiaMART, JustDial, GetIt/Sulekha, etc. Investing in Google Adwords and other advertising platforms has been the most effective way for these firms to drive online conversions and realize real-value from digital marketing.
Leveraging India's large Social Networking base:India has one of the largest active social media profiles across the world and leads in terms of Facebook users: 250 Million (as of Jan 2018). Just this fact shows the kind of opportunities available for any brand to market themselves to a select audience and know their reactions (which was impossible earlier across online media).
Leveraging mobility to reach Tier2/Tier 3 audiences: In no other country can the prominence of mobile marketing be seen so vividly as India where mobile connections far exceed desktop logins, making it incredibly easy for businesses of all types to target bottom of pyramid customers through SMS promotions, help them access brand apps through relatively inexpensive data-packs, have them visit lighter versions of websites and facilitate digital payments in the easiest of manner.
Q.3. Do you think that traditional marketing means will continue to co-exist with its digital counterpart ?
Of Course! Not that it will or will not, but it should co-exist. And there are reasons behind it. However much we see marketing moving online, it is not just about where the brand is sold, but also about where it is seen, felt and devoured. Take an example of the iPhone X. Once can buy it from any good online commerce website today. But imagine the difference between experiencing the features of the phone in an iPhone seller store in comparison to buying it online. Convenience, Price Discounts and Social Feedback are key USPs which digital platforms provide but we can never discount the impact of discovering the brand in offline vicinities: places where we can touch, feel, smell and experience the brand. Although digital immersive experiences (AR/VR applications) are fast covering ground, in India typically for lower priced commodity products (like soap, oil, etc) we will always have offline sales move together with online for a long-time to come. The key for marketers would be to complement online and offline experiences for a brand and make it so compelling that users are enticed to buy only that brand (in comparison to competition), wherever they view it.
Q.4. What are the main benefits of digital marketing for a business ?
As also shared in my text in Chapter 2 on 'Digital Marketing Models Creation', there are six 'Digital Value' elements which differentiate digital marketing and provide benefits to consumers. These include:
Convenience:Online availability and real-time accessibility
Variety:Access to multiple and long-tail options not easily available offline
Cost:Provision of lowest price-point per-unit sale due to reduced intermediaries
 Aesthetics:Design led presentation/branding features which are more compelling
Communication:Interactivity and engaging usage of content for each customer step
Customization:Ability to personalize each offering uniquely for specific needs
Q.5. Experts say that – digital marketing is a great leveler. Whether it is a large multinational or a start-up, digital marketing is easily accessible to all organisations. Your comments.
Completely True!
Digital Marketing was born out of a need for not just mass branding, but mass penetration at much cheaper costs. With costs of a broadcast campaign going into lakhs, both large MNCs and small brands were on the look-out for inexpensive channels where they could control all the 4Ps and customize them the way they wanted for each of their target segments. This flexibility was never available to them earlier. So not just in terms of cost, but also in terms of targeted reach, channel flexibility and accessibility to the same audience, digital marketing provides options (at sometimes even one-tenth of the cost-like email marketing) than what offline media provides. We have already started witnessing the benefits of digital marketing with newer start-ups displacing traditional brands through their digital armory and expertise.
Q.6. SEO has of late been used for manipulating customers. Do you agree? I was reading a book where it was mentioned that there are serious privacy concerns with Google. With companies vying with each other for grabbing customer's attention, what do you think about paid searches?  Which do you prefer/ recommend – paid search options or organic search options ?
Very Interesting question with multiple angles. Marketing techniques and tactics are generally not aimed at manipulating customers. While 3-4 years back there emerged a slew of companies which were tried to game SEO, Google has constantly strived to keep them in check with multiple and regular changes to their algorithms- Case in point is their latest RankBrain release which is shifting the landscape again. That said, privacy concerns have always shrouded online marketing and this aspect will continue to gain prominence due to the inherent nature of marketing which strives to gain access to consumer data which conflicts with consumer's interest to maintain privacy. On paid Vs organic question, I believe there is a power-tussle between digital behemoths and marketers, where any popular digital platform will try to monetize by giving prominence to paid ads, once they have gained confidence of consumers and marketers. According to me, digital marketing is going in a direction where marketers will have lesser choice between paid/organic and to be online they would prominently need to include paid advertising on each of their active platforms rather than only targeting organic reach. We would start seeing this power shift towards brands having to go for paid ads on major platforms more and more in coming times.
Q.7. Could you throw some light on "affiliate marketing"? It will help our students.
Affiliate marketing is all about intermediates supporting sales of another brand/platform for which they get a cut in-return from the final consumer transaction. Affiliate marketing is quite a popular concept amongst E-commerce players (like Flipkart, Amazon, ShopClues, Makemytrip, etc) which have structured affiliate programs to gather audiences for their website products and services. Based on the relevancy of audience and conversion rates, they have a pay-back program for their affiliates (with specified terms and conditions). Affiliates on the other hand, typically excel in vertical areas like travel, fashion and beauty, electronics, etc to provide leads to sites which can convert them into customers. There are also a lot of coupon based sites like Cashkaro which are act as affiliates. The most popular affiliate concept these days includes influencer marketing wherein a social media influencer on any topic gets paid to promote or use a brand in their social posts and gets paid in return. Affiliate marketing is a good way for any starter to earn decent income from digital marketing provide she/he knows their vertical/craft well and have a strong followership.
Q.8. I often end up rebuking my students for not being so Email savvy. How important it is to check your Emails regularly – especially for business school graduates? Do you think that Whatsapp has substituted Email? The reason I am asking this question is because I have found you highly agile and responsive when it comes to your Email communication. Your views will benefit our students.
Great to see Venkatesh that you found me responsive on that front as I believe it is crucial! E-mails according to me are core to business operations today. There is a big difference between formal and informal channels of communication and both are crucial in different ways. For example, office and business dealings should be over email since business at hand cannot be responded in a delayed manner as it relates to loss of revenue and image. Whatsapp is an informal channel of communication and not exactly geared towards business. I believe students need to establish clear demarcation of such formal/informal communication channels, else it will really impact professional and business dealings.
Q.9. How should digital marketing be taught in classrooms? Your ideas will be appreciated.
Digital Marketing as a subject need to have a strong mix of both theoretical and technical aspects. Without a sound understanding of the basics of marketing, digital platforms and channel types, we cannot move ahead in the first place. According to me following are the 4 key pillars for digital marketing teaching:
Understanding Digital Marketing Fundamentals: It is essential to both follow a structured text (like Fundamentals of Digital Marketing) along-with executing certifications from top platforms (most of which are free) including Google (Digital Garage, Analytics, etc), Hubspot (Inbound, Email, Content), Search Engine Marketing (Google, Bing, Moz), Social Media Marketing (Facebook, Twitter, Linkedin), Video Marketing (Youtube), among others.
Knowledge of Tools and Platforms: Apart from learning the basics, it is also important to have worked on few of the top industry tools in each area including MailChimp/Aweber (Email marketing), Hootsuite/Buffer (Social Media Scheduling), Canva (Design), Google Analytics (Analytics), etc.
Hands-On Implementation: Also it is very important to execute structured exercises in digital marketing including:
Developing owned platforms (Eg: Blog or One-Page Responsive Site)
Social Media Presence (Facebook, Linkedin, Twitter Presence)
Executing Email Campaigns (start with Mailchimp)
Social Media Posting (start with Hootsuite)
Blog/Site Analytics and SEO (Google Analytics and Google Search Console)
Developing Reports (start with Simply Measured)
d)Following top websites/RSS Feeds/Google Alerts: Top DM websites to follow include- Moz (SEO), Search Engine Journal (Search), Social Media Examiner (Social); Econsultancy (Digital Marketing Reports), IAB (Advertising), CMI (content), etc.
Q.10. Tell us something about your book which (I believe) has been a best seller in the market.
Although multiple segregated tutorials, videos and sites are available in Digital Marketing there has been a gap in terms of a structured Indian textbook for students to understand all digital marketing concepts at one place. Fundamentals of Digital Marketing (www.FODM.in) is one of the first comprehensive digital marketing texts which covers this gap for the Indian market. The title has been authored with the aim to consolidate key digital marketing concepts from ground zero. The title:
Establishes a Five step integrated Digital Marketing Model: ASCOR (Assessment, Strategy, Channel and Communication, Operations and Refinement) which can be utilized by individuals, SMBs and large corporations alike
Provides a detailed orientation to Digital Transformation for any industry
Details concepts through topical Case Studies of Indian businesses
Includes Digital Application exercises on Indian brands
Devotes a complete section to Careers in digital marketing to help students understand how to build a career of their choice in this area
Hope that students will benefit immensely from this text and would encourage them to reach out to me for any clarifications.
Q.11. "If you are not on LinkedIn, you are not visible to the market". Why is it important for students to create a profile on Linked In ?
It is crucial for students to be present on LinkedIn as that is the best B2B platform available for networking and is the most trusted. LinkedIn has multiple sections to showcase personal and professional expertise along-with testimonials and skill endorsement features. It is a strong example of talent showcase wherein professionals across varied areas can reach out to you to connect, execute business, evangelize jobs or partner in multiple ways. Would strongly suggest each student to be present on LinkedIn and give it their best shot!
Q.12. While watching videos on You Tube, one often encounters ads that are damn irritating. Invariably, you end up using the "Skip Ad" button. I feel this is the other side of digital marketing – a "push" based aggressive approach instead of a "pull" based approach. Why do some companies insist on deploying such marketing tactics knowing full well that it can turn out to be counterproductive ?
This again relates to my earlier answer on paid vs organic marketing. With digital marketing prominently in the hands of a few top platforms, whose main objective is revenue, this 'push based' approach is increasingly becoming a challenge where the platforms need to earn and at the same time manage customer expectations of commerce-free services being pushed to them. I would see this tussle playing out even more. The problem is more pronounced for brands which need such platforms to advertise and even with the most creative ads, they are still into the interruption advertising mode. I believe 'Native Advertising' is the best answer to this problem wherein brands should think of native placements for their ads to place the brand within the story line of the video itself which will make it more prominent and less obtrusive. Influencer marketing will score here again by weaving the brand in their social posts, videos, etc for a more pull based marketing which will be accepted more favorably.
Q.13. The last question. Videos are available on YouTube for free. How does YouTube benefit out of this? What is their revenue model ?
Youtube might look to be free but it is primarily an advertising driven business (where it places pre-roll and mid-roll ads on videos) which has an affiliate component to it (video creators are paid based on the number of views garnered by their channel). Apart from this Youtube also earns through a subscription based model 'Youtube Red' which provides an enhanced, uninterrupted experience across YouTube, YouTube Music, and YouTube Gaming, by charging just a nominal amount for membership. In US we have YouTube TV, which is a live TV streaming service which lets the subscribers watch cable channels like ABC, NBC, FOX, ESPN, Disney, etc on Youtube for a subscription.
The essential model for these platforms is to provide service for free to consumers, make them used to the service initially and gradually earn revenue through advertisements and promotional placements along-with consumer-led subscriptions. From my observation, this has been and will remain the bread- and -butter model for digital revenue for a long time to come.