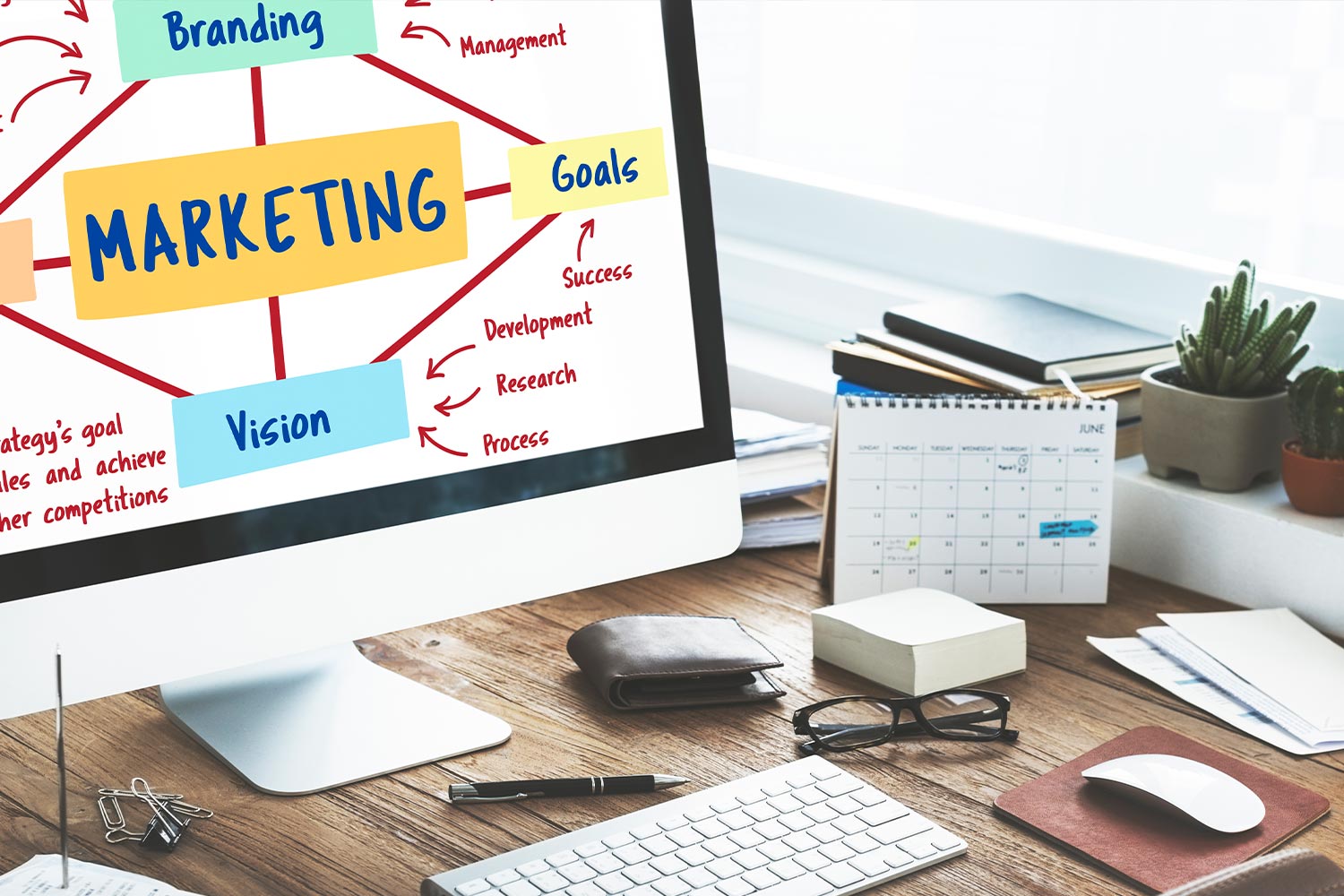 07 Dec

Digital Marketing Strategy Framework: Beginner's Primer

The main purpose of a 'Digital Marketing Framework' is to guide all digital marketing investments including channels, budget allocation, tools/platforms, etc. Traditionally 'Marketing Frameworks' were helpful in guiding offline marketing planning and execution. But as digital marketing channels became more widespread, they started consuming offline budget. Since Covid-19, our present situation has tilted the scales to be more in favour of Digital Marketing strategy frameworks that focus specifically on the strategic aspects of marketing execution and RoI.

 What is a Digital Marketing Strategy Framework?

Digital marketing strategy framework differentiates from any normal framework through its focus on strategic goal planning. With increasing prominence of digital channels, direct customer outreach is providing ever higher data points to marketers to deduce next best actions and predict future customer journeys.

All this big data further propels the need to deploy digital marketing strategy for a brand utilizing the most robust industry frameworks. The next question which comes to mind is 'How to create a digital marketing strategy' using these frameworks. This article will answer such questions, share top strategic frameworks and delve deeper into ASCOR digital marketing framework implementation examples for your deployments.

 Core components of a Digital Marketing Strategy Framework

Successful implementation of any strategic framework involves a clear understanding of brand goals and a well-laid out digital marketing strategy plan. While most frameworks will have specific marketing orientations, a typical digital marketing strategy framework will include the following components:
A strong focus on developing strategic (as opposed to tactical) marketing plans
Market and competitive landscape assessment (with focus on key differentiators)
Integrated execution elements across multiple digital channels (rather than siloed)
Well-crafted operations/implementation strategy
Custom measurement KPIs for review and plan refinement
Absence of above elements has resulted in many frameworks being disoriented at the least (or presumptuous at the most) during channel selection/deployment. Without a clear understand of customer interactions, data across touchpoints and campaign goal to data mapping, a framework could suggest channels and communications which will not be effective enough to drive customer engagement or revenue goals.
For example, when we are in the process of deciding digital channels towards campaign spend, unless a framework guides us with the right set of competitive research models, we might never execute a thorough research to include alternate channels/messaging strategies in our plan and remain passive in our approach.
Ability to research and justify the reason for different customer segment actions, their views/click patterns, prior CTA conversion ratios, ongoing channel affinities has the power to turn marketing to a much more military-level exercise than just another day sitting across Google Adwords/Facebook Ads Manager and number crunching the next campaign.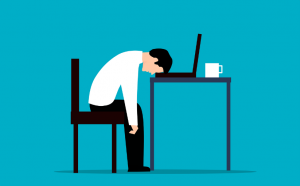 How to choose the most strategic Framework for your digital marketing?
Choosing a strategic digital marketing framework could be a bit tricky as top industry frameworks have a differing focus. Some of them are more Organization oriented, while others could be more planning or funnel specific. There are a few ones like ASCOR Digital marketing framework which focus purely only on Digital Marketing executions. Let us look at this along-with other top digital marketing strategy frameworks below.
Top Digital Marketing Strategy Frameworks (deployed globally)
While you might find many frameworks developed by marketing organizations, associations, even proposed by individual businesses/agencies, below are the top ones which are most trusted and propularly deployed across industries today:
Mckinsey 7S Digital Marketing Framework ('Organization' Oriented Framework)
One of the most popular digital marketing frameworks deployed globally is Mckinsey's 7S Digital Marketing Framework.  Introduced in 1970s, this framework was developed by consultants Thomas Peters and Robert Waterman Jr., authors of the management bestseller "In Search Of Excellence". With a focus on organizational effectiveness this digital marketing framework by Mckinsey consists of seven interrelated factors that help determine a company's success and its ability to change in face of complexity.
The 7S Framework includes a mix of three hard and four soft elements. Hard elements are easy to identify and can be influenced by management, while soft elements are fluidly defined and can be influenced by the culture of an organization.
Let us look at the definition of each of these Hard and Soft elements:
Hard Elements: Strategy, Structure and Systems
Soft Elements: Staff, Skills, Style and Shared Values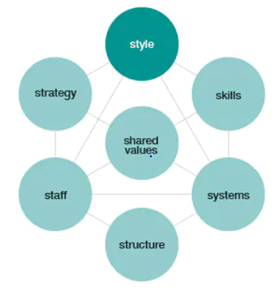 (Source: https://www.mckinsey.com/business-functions/strategy-and-corporate-finance/our-insights/enduring-ideas-the-7-s-framework)
Strategy: The organization's approach to gain competitive edge in the market, share overall goals and gain a strategic edge in the long run
Structure: How the organization develops its overall hierarchy, teams and people to effectively execute on defined strategy
Systems: Involves daily activities, processes and procedures which make up the standard operations within the organization (including marketing planning, operations and measurement)
Staff: Includes the staffing approach towards internal and external personnel, their trainings, and task preparation towards task accomplishment
Skills: The capabilities, talents and competence of an organization's workforce
Style: Overall approach of management to lead the company and its influence and impact on staff performance, idea generation, corporate culture and change management.
Shared Values: Overall vision, mission and culture which is commonly shared within a company and relates to accepted standards, behaviour and norms within the organization.
ASCOR Digital Marketing Framework ('Digital Marketing' Oriented Framework)
ASCOR Digital Marketing Framework is an exhaustive Digital Marketing specific framework as an exhaustive framework including five phases:
Assessment Phase: involves a firm's or individual's assessment and analysis of their present external/internal marketplace environment. Key Models include:

External Analysis
Internal Analysis
Digital Presence Analysis

Strategy Phase: includes building an integrated marketing strategy for digital which is in-line with traditional investments and activities. Inherent models are:

Digital Strategy Definition
Customer Development Strategy (STP2.0)
Digital Marketing Mix (8Ps)
6S Implementation Framework

Communications and Channel Mix: involves a more in-depth communication and channel mix plan created for each of the marketing objectives. Models constituting this phase include

Digital Media Planning
Communication Program Design
Channel Mix Development

Operations Phase: This is the deployment stage for digital operations and involves the actual planning, implementation, monitoring and optimization of campaign. Key models for this phase:

Digital Campaign Planning
Multi-channel Campaign Set-up
Campaign Execution
Campaign Monitoring

Refinement Phase: Helps analyze overall RoI for the effort and investments, create reports and analytics dashboards and refine present strategies. Key models include:

Implementing Web Analytics
Defining Measurement Framework
Marketing Implementation RoI
Digital Marketing Refinement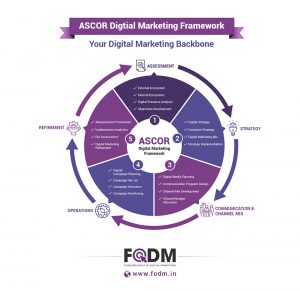 One of the biggest challenges in Digital Marketing these days is that no-one provides a structured approach to help decide the right channels to deploy. The ASCOR Framework was developed to help marketers not just go with any channel of liking but instead strategize in a structured manner to approach at the right channel rather than implement them randomly.
This framework is one of the few end-to-end 'Digital Marketing' specific frameworks with a structured list of extensive models across the five phases that help guide any digital marketing execution effectively. For in-depth coverage of ASCOR Digital Marketing Framework you can refer to the full blog on ASCOR Digital Marketing Framework and also download this digital marketing strategy framework PDF.
PR Smith's SOSTAC ® Framework ('Planning' Oriented Framework)
PR Smith's SOSTAC ® Framework (www.sostac.org) is a widely deployed 'Planning Oriented' framework to help execute digital marketing planning. The model was conceptualized by PR Smith and consists of six well-co-ordinated steps to execute any strategic planning exercise.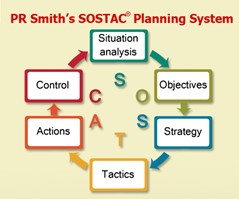 (Source: https://prsmith.org/sostac/)
Key elements of PR Smith's SOSTAC ® Framework include:
Situation Analysis: Includes a thorough analysis of where customers are presently situated, the types of channels they visit frequently, their competitors and competitor USPs (unique selling proposition)
Objectives: Defines short and long-term objectives across the customer journey and marketing funnel with respect to activities that need to be accomplished. The framework utilizes SMART model for marketing objectives setting.
Strategy: Includes activities across targeting and positioning, partnerships, processes, integrations, tactical tools, etc
Tactics: Outlines the details of the marketing strategy including marketing mix, contact, content and campaign plans
Actions: Outlines the operational aspect of planning including who does what, detailed responsibilities, checklists and guidelines for execution excellence among others
Control: Analyzes and monitor KPI targets using visitor profiles, usability testing, customer satisfaction surveys, daily/weekly/monthly progress charts
AARRR Framework ('Marketing Funnel' Oriented Framework)
AARRR Framework developed by venture capitalist Dave McClure aimed at providing direction on developing a customer behaviour model to focus on specific marketing metrics which impact a company's goals. The aim of the framework was to help understand key channels and metrics at each stage of the marketing funnel to guide prospect journey towards conversion. This framework is also referred to as 'Pirate Metrics' Framework in lieu of the funnier pronunciation of the acronym AARRR!
According to Dave, in his blog he shares that the basic concept is based on five major types of measurements of user behavior: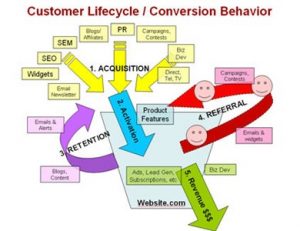 (Source: https://500hats.typepad.com/500blogs/2007/06/internet-market.html)
A: Acquisition – Reviews channels from which users arrive and get introduced to your product. These are typically visits to owned channels like website, mobile app, blog, etc. Key acquisition channels include:

SEO (Search Engine Optimization)
Social media marketing
SEM (Search Engine Marketing)
Public Relations
Email Marketing
Apps and widgets
A: Activation – Measures %users with a "happy" initial experience. Includes tactics to have the customers try our product. Key examples include:

A Brand's Homepage
Website's additional pages
Campaign Landing Pages
Newsletter Sign-ups
Free-Trial Offers
R: Retention – Gauges returns & re-visits over time and how to make customers engage more with the brand. Retention Tactics include:

Sending DRIP Emails
Sharing Product Alerts
Developing Blogs/new content
Inclusion in RSS Feeds
R: Referral – Measures likeness to spread word of mouth. Includes promotions which help enhance referrals. Key types include:

Referral Campaigns
Word of Mouth Contests
Referral Promotions through emails
R: Revenue – Potential to monetize a user's behavior. Involves identifying actual revenue targets to ensure they become paying customers. Key metrics include:

Reviewing users with minimum threshold revenue
Users with Breakeven revenue
Revenue greater than customer acquisition cost
Digital Marketing Strategy Examples: ASCOR Digital Marketing Framework Deployment
Understanding how to deploy a Digital Marketing Framework effectively is critical to yield desired outcomes. Let us you through a few digital marketing strategy examples to understand typical deployment stages:
Digital Marketing Strategy example 1: Individual Brand

Below are shared examples of two use-cases wherein a local Orthopaedic and a digital media manager are looking to implement the five stages of ASCOR digital marketing framework across their digital execution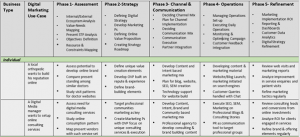 Digital Marketing Strategy example 2: Small and Medium Business

Next let us look at the example of two SMBs (small and medium businesses) looking to deploy the framework for their specific business needs.

Digital Marketing Strategy example 3: Large Business

Finally we have couple of large business examples and their framework deployment steps across each of the five stages.

With the above examples we can sense the importance of following a structured digital marketing framework and the flexibility it can provide to execute multiple business problems in the most custom manner.
While you may be inclined to deploy multiple digital marketing frameworks for your marketing needs, it is advisable to check the orientation fitment of any framework to your marketing problem and organization and deploy the best suited framework for true marketing success.
Article Reference Links:
https://www.mckinsey.com/business-functions/strategy-and-corporate-finance/our-insights/enduring-ideas-the-7-s-framework#